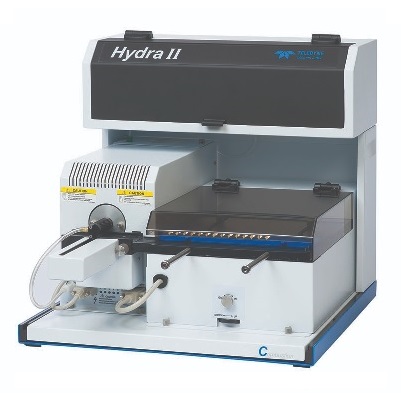 Overviews
Hydra IIC
The Hydra IIC is a fully automated turnkey analyzer that measures mercury in solid and semi-solid sample matrices directly without any acid digestion (sample preparation). The system employs the technique of sample combustion (thermal decomposition), mercury concentration via gold amalgamation and detection by cold vapor atomic absorption.
The biggest advantage of the Hydra IIC is that no sample preparation is required before analysis. And, because no sample preparation is required; the cost and hassle of dealing with waste disposal is avoided.
The following are some of the highlights of the Hydra IIC's capabilities:
No sample preparation required; no waste generated

Wide dynamic range with extended range option

Excellent sensitivity; no sample dilution required

Easy calibration; matrix independent

Electronic transfer of sample weight

Simple "plug and play" design makes preventative maintenance a snap

"On the fly" sample can be easily accommodated​
Common Methods

EPA Method 7473​

ASTM D6722

ASTM D7623
Features
​Maintenance of the catalyst and gold trap in minutes

Pressure monitoring, indicates a problem with the catalyst or sample boat injector

Standard usable range 0.001 ng – 1500 ng

Configurable to a high mass analyzer in minutes, < 25,000 ng

≤ 0.001 ng instrument detection limit*
*System Blank Detection Limit is determined by 10 no-boat readings under ideal system conditions. The standard deviation of the 10 readings is multiplied by 3 to determine final value.​
Applications
Download