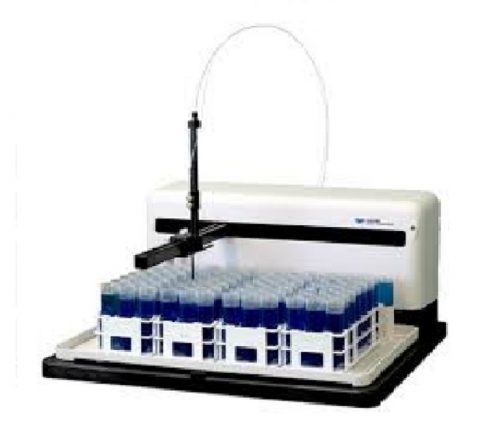 Overviews
More features and improved performance define the next generation of autosampler from Teledyne CETAC Technologies. The ASX-560 Autosampler builds upon the reliability of the ASX-520 with latest generation electronics, improved accessory interfaces, enhanced pumping capabilities, easier serviceability and a sleek new design!
​The ASX-560 keeps the durable features of the ASX-520 before it, which has proven its worth in tens of thousands of laboratories and countless hours of operation. The enhanced features of the ASX-560 mean that it is ready to tackle an even wider range of analytical techniques and environments, including AA, ICP, ICP-MS, TOC, UVV-IS, fraction collection, liquid handling and more.
Specifications
Specification​ Title

Specification Details

Dimensions (H x W x D)

62 cm with sample probe ​x 58 cm x 55 cm
(24.4″ x 22.5″ x 21.6″)

X-Axis

42.0 cm (16.54″)

Y-Axis

30.0 cm (11.81″)​

Weight

11.7 kg (26 lbs)

Communication Interface

2 Serial (RS-232) ports
USB (virtual COM port)
5 auxiliary inputs / 5 outputs

Power Requirements

100-240 VAC, 47-63 Hz, 1.9A

Options

Standard Clean Enclosure (ENC-560DC)​
Integrated Clean Enclosure (ENC-560)
ASXPRESS PLUS Rapid Sample Introduction System
High Speed version also available​
Application Areas
Ideal for a wide range of analytical techniques including:
AA

ICP

ICPMS

TOC

UV-VIS​

fraction collection

liquid handling

and much more.​..
Downloads