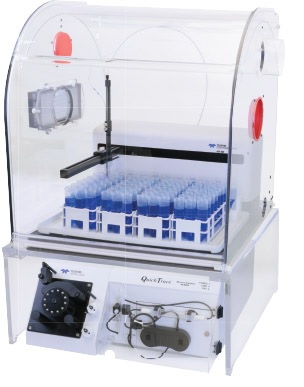 Overviews
Features
Specifications
Applications
Download
Overviews
QuickTrace M-8000
The QuickTrace® M-8000 Cold Vapor Atomic Fluorescence (CVAF) Mercury Analyzer is ideal for ultra-trace to sub-mg/L mercury quantitation. It easily achieves the ultra-trace mercury detection limit of < 0.05 ng/L demanded by customers employing EPA method 1631. The QuickTrace® M-8000 is also versatile enough to analyze samples > 400 μg/L in a research or industrial setting without dilution. 

QuickTrace® M-8000 CVAA Mercury Analyzer
Depending on your laboratory's requirements, the QuickTrace® M-8000 mercury analyzer supports three modes of operation:
Mode 1: Cold Vapor Atomic Fluorescence Spectroscopy (CVAFS)
Mode 2: Cold Vapor Atomic Fluorescence Spectroscopy Single Gold Trap Amalgamation (CVAFS-SGTA)
Mode 3: Cold Vapor Atomic Fluorescence Spectroscopy Double Gold Trap Amalgamation (CVAFS-DGTA)
The mode can be changed in software, without hardware or tubing configuration changes.
Why is it so important to have a system that switches between ultra-trace analysis and low mg/L analysis with only the opening of a new method? These innovative features save you set up time and eliminate costly mistakes.
Teledyne Leeman Labs also employs cost saving features during the gold trap desorption such as shutting down the flowing rinse and slowing the SnCl2 flow. These innovative features can save the laboratory thousands of dollars per year by reducing reagent and waste costs.
Using the proven cold vapor atomic fluorescence (CVAF) technique combined with multi-tasking Windows® based QuickTrace® software package, the QuickTrace® M-8000 is one of the most stable reliable fluorescence analyzer available today.
For ultra-trace analysis we recommend our autosampler enclosure to protect the samples from determinate errors such as dust particles. The enclosure will also protect your investment from the harsh acid gases normally present in and around digested samples.
Performance
Excellent short and long term stability are found in the QuickTrace® M-8000 CVAF analyzer. Less than 0.02 ng/L instrument detection limits are typical for the QuickTrace® M-8000 gold trap modes utilizing less than 25 ml of sample. We consistently achieve non-gold trap instrument detection limits of less than 0.1 ng/L utilizing less than 10 ml of sample.
Ultra-trace detection limits (< 0.05 ng/L IDL)

Linearity greater than 4 orders of magnitude

Dynamic range < 0.05 ng/L to > 400 μg/L

In Mode 1 by response comparison to a 100 ng/L standard, the system exhibits < 0.01% memory effect of a 1 mg/L standard immediately following the ingestion of a 1 part per million (mg/L) sample.

In Mode 1 without employing our smart rinse technology the system is ready to accurately measure a sample within four minutes following the ingestion of a 1 ppm sample

Mode 2 & 3 – Short term precision (%RSD @ 95% Confidence) = 2.5% @ 5 ng/L, n=5​
​Common Methods
​​EPA Method 245.7

EPA Method 1631

SW 846-7474

EU Methods: Din ISO 16772

EN-12338

ISO 17852​
*For a full list of applicable methods contact your sales specialist.
Features
Specifications
Applications
Download