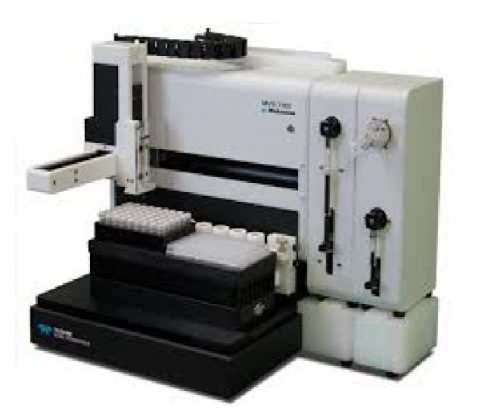 Overviews
Specifications
Applications Areas
Downloads
Overviews
Pushing the boundaries of ICP MS applications 
Advanced, flexible automation; meeting the challenges and demands of 
The MVX-7100 µL Workstation offers highly consistent, syringe driven, low volume and configurable flow rate sample introduction for quadrupole based, high resolution and multi-collector ICP-MS instrumentation.  This technology opens the door to samples of limited volume and batch analysis of volatile sample types.
This technology also offers the opportunity to work intentionally with lower sample volumes and lower introduction flow rates.  This is of particular interest in isotope ratio determination with multi-collector ICP-MS; while introducing lower sample volumes (notably with blanks) measurement precision can be improved compared with standard methods.  The possibility to analyze isotopic systems within samples previously thought to be present at too low an abundance can now be realized.
To schedule your free consultation, click "Request Information​," fill out the form and we will contact you.
The MVX-7100 µL Workstation uniquely offers the following benefits:
The ability to overcome the challenge of low or "sub-optimal" sample volumes




Introduce sample aliquots from less than 5 µL to greater than 1.5 mL

Obtain greater control over data generation per sample volume




The MVX-7100 µL Workstation is compatible with any nebulizer type

The user controls the introduction flow rate between:

Total consumption nebulization (< 5 µL min-1)
"Standard" nebulization (> 1 mL min-1)

Expand your analyte suite and generate more data from less material for low sample volumes

Tailor your sample volume aliquot and introduction flow rate to meet your measurement time requirements

Allow multiple repeat measurements from a low sample volume

Ensure sample integrity across an analytical batch




Septum piercing of sealed sample vials

Control sample temperature between 4°C to 40°​C

Minimize sample evaporation of volatile organic matrices

Minimize losses of volatile analytes

Inhibit the crystallization of high freezing point solvents (such as DMSO) in analysis

Homogenize samples immediately prior to sample introduction

Compatibility with Well Plates




Take sample aliquots from both 96 and 384 well plates up to 44 mm in height

Compatibility with most ICP-MS instrumentation




Fully integrated with Agilent ICP-MS Mass Hunter (v4.3, patch 3 onwards)
Specifications
Applications Areas
Downloads