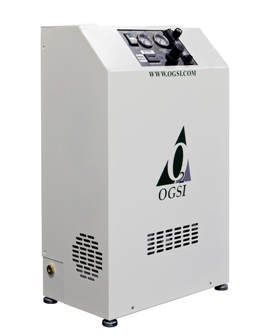 OG-15
OG-20
OGS-20
MOGS-50/100
All Model Oxygen Generator
OG-15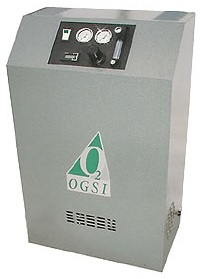 Twenty-one percent (21%) of the air we breathe is composed of oxygen . . .
Using Pressure Swing Adsorption (PSA) technology, the OGSIModel OG-15 extracts oxygen from the atmosphere, concentrating it to 93% (± 3%) purity, and delivering the oxygen to any application.
Dependable
The OG-15 is completely self-contained. Its internal air compressor, filtration system, zeolite sieve, surge tank, and flow control system were designed for 24 hour operation.
Durable
The OG-15 is built on a powder coated steel chassis. Its anodized aluminum sieve beds are fitted with custom molded composite end caps for years of reliable service. Weighing 78 lb (35 kg) the OG-15 is the industrial strength oxygen concentrator.
Safe
Why bother with the danger of high-pressure cylinder oxygen? The OG-15's built-in regulator allows you to set the delivery pressure according to your needs. The 0.3 hp compressor maintains an internal pressure of less than 9 psi, and delivers an optimal flow of oxygen up to 12 psi.
Economical
Oxygen is free! Eliminate the unnecessary costs of transportation, storage, and cylinder rental. The OG-15 uses less than 0.7 kW of electricity to deliver up to 15  standard cubic feet of oxygen per hour (SCFH). This product is cost effective and energy efficient.
Simple to Use and Maintain
With a lighted on/off switch, integrated control panel, digital hours meter, custom flow gauges and controls, the OG-15 is truly user friendly. Just plug it in, turn it on, and set the desired pressure and flow. Check and clean the inlet air filter every 6 months, and you're done. The zeolite sieve (which actually separates oxygen from nitrogen) is regenerative, and does not need to be replaced for the life of the unit.
The Model OG-15 was made easy to operate. All of the controls are on the front panel. The Power Switch, Hoursmeter, Gauges, Regulator and Flowmeter are easy to view and/or manipulate.
Original Equipment Manufacturer (OEM) Configurations
For integrators, the OG-15 OEM is available.  This basic configuration includes the sieve beds, timing board, and a valve secured to a mounting plate for easy installation in the purchaser's enclosure.  The benefit of this OEM design is it provides a lower cost option to customers who want to supply their own feed air, instrumentation, and enclosure for a total oxygen producing package to end users.
Options Available:
230 VAC 50/60 HZ
No Cover
Anti-vibration Feet (for tabletop use)
Quiet Muffler Option
Pressure Switch and Relief Valve
OG-20
OGS-20
MOGS-50/100
All Model Oxygen Generator