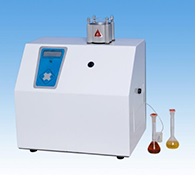 Overviews
Features
Applications
Specifications
Brochure
Overviews
Science / Industry Flame Photometer
The model ATS/40994 – ATS 200S Science / Industry HPFP™ (High Performance Flame Photometer) is a multi-channel analyser that measures simultaneously and instantaneously up to 4 elements; Na, K, Li, and Ca are included as standard.
It uses powerful microprocessor and proprietary firmware that permits the analysis to be done through a menu driven routine. This allows for easy operation through a 'Yes / No' menu-driven routine, minimising the variables due to human error.
This is the ideal instrument to speed up bulk sample analysis.
For the fully automated system, the model ATS/40998-4is offered. This unit includes the ATS LabAssistant™, and the ATS MiniSoftWin™ PC Professional Software to create a powerful, programmable, walk-away system.
Features
Applications
Specifications
Brochure