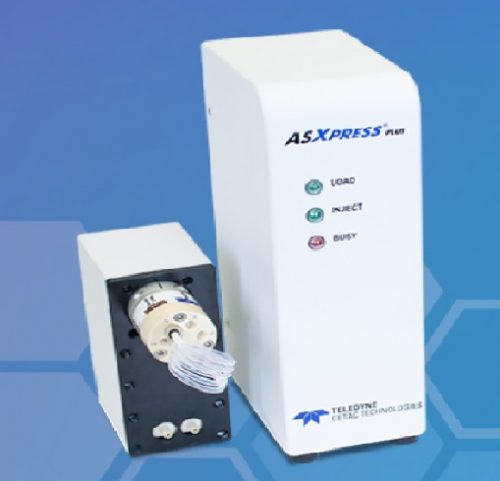 Overviews
When coupled to a compatible autosampler, the ASXPRESS® PLUS Rapid Sample Introduction Accessory minimizes times for sample delivery, stabilization, and washout with ICP-AES or ICP-MS.  The result is increased sample throughput by up to 5 times or more.  In addition, the ASXPRESS® PLUS reduces costs from argon, power, ICP-AES / ICP-MS components, and system maintenance.
Key Advantages of the ASXpress PLUS:
Increase sample throughput

Reduce sample delivery, stabilization and washout times

Reduce sample waste

Lower argon consumption

Reduce sample matrix exposure on ICP-AES / ICP-MS hardware

Eliminate sample memory effects from peristaltic pump tubing​
Specifications
Specification Title​

Specification Details

Valve/Pump Mod​ule Dimensions

 

     ​Height

​21.7 cm (8.5 in)

     ​Width

5.8 cm (2.3 in)

     ​Depth

12.8 cm ​(5.0 in)

Electronics Module Dimensions

 

     ​Height

​25.4 cm (10.0 in)

     ​Width

​8.3 cm (3.3 in)

     ​Depth

20.0 cm (7.9 in)​

Hardware Interfaces

RS-232 from autosampler to ASXPRESS® PLUS​


RS-232 or USB from autosampler to host PC




External pump connector

Power

100-240 VAC ~ 47-63 Hz 1.9A​​​​​​
​Compatibility

The ASXPRESS® PLUS Accessory is compatible with the CETAC ASX-500, ASX-510, ASX-520, ASX-560, ASX-260, EXR-8, ASX-1400 and ASX-1600 Autosamplers, PerkinElmer S10 and AS-93 PLUS Autosamplers, and Agilent SPS3 Autosampler.  
The ASXPRESS® PLUS accessory integrates with most ICP-AES and ICP-MS systems and can be easily added to autosamplers currently in operation.  The ASXPRESS® PLUS may be purchased with choice of Teledyne CETAC autosampler or as an upgrade to autosamplers already in operation.
Please contact Teledyne CETAC for more information on the above listed autosamplers or in regards to operating an ASXPRESS® PLUS system on non-CETAC autosamplers.
Application Areas
Download the Application Guide​
Soil Applications

Oil Applications

Mineral Assay/Mining Applications

Environmental Applications ​​​​

Clinical Applications​
Extending Engine Life: The Importance of Lubricant and Oil Analysis with ICP-OES​​ (external link)
​Visit the Application N​otes page for more information.​​​
Downloads