X-300
The Katanax® X-300 fluxer is a key part of our new offering in next-generation electric fusion, providing exceptional flexibility for outstanding ease of use and unparalled results.
This multi-sample fluxer is available in 1, 2 or 3 positions, and can later be expanded, thus adapting to the needs of today's modern laboratories. Here is what customer Owens Corning had to say about its pre-release trial:
Description
The X-300: Features
Special

 features
Expandability

Available pre-configured as a 1, 2 or 3 position unit
Upgradeable by customers in their own labs
Adapts laboratories' changing needs

Innovative heating elements

Impervious to flux and other chemical projections
Robust and non-brittle (instrument can be moved without element damage)
Cartridge type for easy replacement
Can be changed individually, with minimal interruption

Advanced furnace

Dynamic Temperature Profile (DTP) to ensure uniform temperature (patent pending)
Individual element automatic power compensation (patent pending)
Fast heat-up (<15 minutes)
Strict use of ceramic eliminates metal contamination

Other

Industrial PLC interface (does not depend on Windows updates)
Requires no external supplies (no power supply box, no cooling fluids)
Single-phase power (no need for 3-phase)
Tiltable interface screen for various user heights
Ambient status light (red when processing, blue when completed)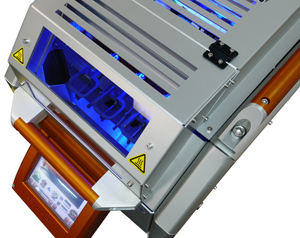 Reliability
Built with the most demanding lab in mind
Heating elements impervious to flux and chemical projections
Robust, all-ceramic platinumware holders
Industrial-grade motors and electronics
Shares several components with the heavy-duty X-600
High-throughput
Simultaneous processing of up to three (3) samples
Can prepare glass disks (beads) for XRF, or solutions for ICP, including preparations in peroxide or pyrosulfate
Throughput of up to 15 samples/hour
Fast initial heat-up time of under 15 minutes
Productivity is improved by a user-adjustable holding temperature. Therefore, the temperature between fusions can be maintained to minimize initial ramping time
Safety
No gases used, so no post-combustion toxic products released
Minimal heat dissipation; only a standard vent hood is required
Integrated, auto-locking protection shield with safety glass viewport
Accuracy
Extra-precise temperature control achieved by Dynamic Temperature Profiling (DTP) and automatic individual element power compensation (patents pending).
Entirely automated, cold-to-cold
Fully reproducible fusion methods
Outstanding reproducibility: all crucibles and molds are at the same temperature
Real-time temperature display
Optimum pouring conditions, since the molds are in the furnace with the crucibles
Versatility
Makes glass disks for XRF
Can also make solutions (including peroxide or pyrosulfate fusions without modification)

Optional variable-speed embedded solutions stirrer available
Prepares up to three (3) solutions for ICP or AA
Switching from disk to solution mode is quick and easy

Ready to fuse with built-in methods for oxides, minerals, metals, alloys, sulfides, fluorides and more
Can perform solid or liquid oxidations
Fully customizable fusion methods
Simplicity
An expandable, intelligent, advanced furnace
Easy installation
Intuitive graphical interface with multiple languages
Easy icon touch-screen navigation
Virtually maintenance-free; easy component access
The X-300 fluxer:
Technical specifications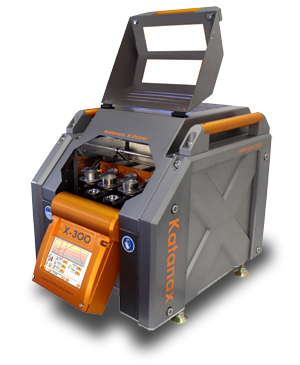 | | |
| --- | --- |
| Voltage: | 195-250 VAC |
| | (50-60 Hz) |
| Power (max): | 3000 W |
| Temperature: | 50-1200°C |
| Height: | 51 cm [20"] |
| Width: | 48 cm [19"] |
| Depth: | 63 cm [25"] |
| Mass: | 45 kg [99 lbs] |
Installation
Installation is fairly simple, just like another lab furnace:
Run a 220 VAC wire from the 15A breaker box to the installation site. (You might well have such an outlet already installed.)
Connect instrument to this standard wall outlet and turn on.
Enjoy !
What is in the X-300 box
1 fluxer (X-300 main unit)
1 tool kit (hex keys, spare fuses...)
1 instruction manual
1 USB memory stick (for firmware upgrades and program backups)