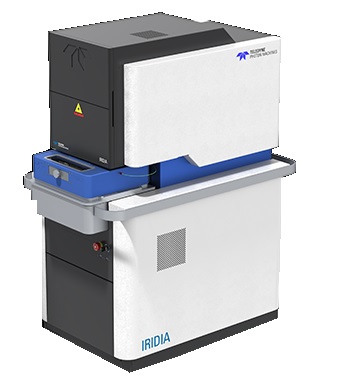 Overviews
The Iridia is a purpose-built laser ablation system designed for high-speed imaging applications that can take your overnight projects and complete them in minutes. Iridia produces high stability laser energy at higher speeds to make full use of the latest ICP-MS technology. The Cobalt sample cell offers single millisecond analytical performance.
Iridia features a 500 Hz ATL laser, custom-designed for Teledyne Photon Machines to give ultimate reliability and performance, backed by a two year warranty and a 1 billion shot guarantee. 
The integrated, fully enclosed and actively vented gas cabinet holds all the necessary excimer premix and helium gas bottles. The patented ExiCheck gas exchanger automatically exchanges the ArF gas on a pre-set interval with no user interaction required.
Features
Key Features
Custom 193nm ATLEX 500i (500Hz) ultra-short pulse, compact, air-cooled Excimer laser

1 billion shots guaranteed

Pulse length < 4 ns

Energy density < 0.05 J/cm2 – 15 J/cm2 using dual attenuators

New Chromium 3.0 software pack

Class 1 (eye safe) during opera​tion and maintenance

Fully sealed optical path with pressurized purge and multi-position mirrors for 5× lifetime​

Software controlled motorized dual cross-polarizers for both transmitted and coax lighting

Stage Priority laser triggering ensures the position of every laser shot is accurately logged

Software controlled LED lighting for reflected, transmitted, and oblique illumination

Spot sizes from 1 μm – 210 μm

Integrated gas cabinet to minimize footprint

Single shot, burst, continuous & fixed dosage modes​
Applications
Brochure