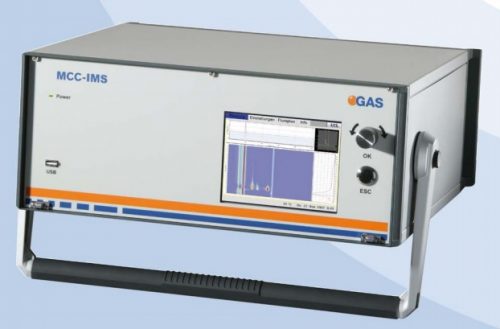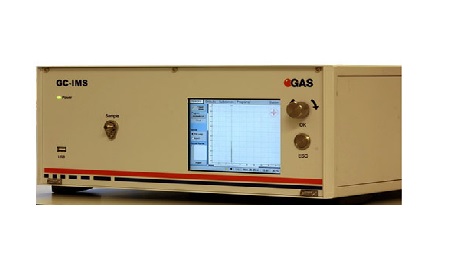 Overviews
The Gas Chromatograph – Ion Mobility Spectrometer (GC-IMS) of G.A.S. combines the high selectivity of a Gas Chromatograph with the extraordinary sensitivity of an IMS (typically low ppbv range)
The technical configurations with gas chromatographic (GC) columns include standard capillary (15-60m) or multi-capillary of various stationary phases that are selected acc. to the requirements of the analytical assignments.
The GC-IMS has integrated temperature and flow controler allowing firmware steered ramping to better separate highly volatile compounds and shorten run times which is decissive QC related assignments. The availability of positive same as negative ionisation modes enables the applicability for a wide range of substances e.g. ketones, aldehydes, alcohols, amines, phosphor organics same as chlorinated or halogenated compounds.
The integrated six-port valve secures a very flexible sampling of gases. Further to that all relevant measurement parameters for method development are easy to access so that the operator can optimize the system with regard to his specific application.
The GC-IMS operates isotherm in a range of 40-80°C and >100°C for baking out (cleaning).  The GC-IMS provides an automatic data acquisition on the device and when connected to a PC 3-D data visualization and analysis by G.A.S. software suite called Laboratory Analytical Viewer (LAV).  Besides the possibility of quantifying single marker compounds additional software plug-ins allow to easy detect the appearance of new compounds or the differences of concentrations of existing compounds. The result classifies differences from a selected reference (golden standard) to quickly characterize e.g. the quality of a sample.
An easy menu, manual or automatic operation modes as well as data acquisition, -analysis on board plus analogue data output via 4-20mA current loop facilitate a remote online process control. While the standard configuration of the GC-IMS requires N2 or synthetic for its operation it can alternatively be equipped with a circular gas flow unit (CGFU) to be independent from any external gas supply. All these characteristics together represent highest flexibility and make up the usefulness of the GC-IMS as analytical online and/or on-site tool.
Through this the device can be applied for several analytical measurements e.g. testing for residual solvents, impurities from production, off-flavour detection, product or ingredients authentication, bad smell or TICs monitoring from industrial plants, perfume and cosmetics on human skin, etc.
As an additional on-site tool and to be indepedent from the use of gas cylinders G.A.S. has developed a circular gas flow unit (CGFU) to be coupled and supplied through the GC-IMS. By that only power is needed to have a portable field approved trace analyzer.
Princeple
Sensitive and Selective detection of Volatile Compounds


Gas Chromatograph coupled to Ion Mobility Spectrometer (GC-IMS)
The GC-IMS combines the high selectivity of a chromatographic separation with the extraordinary sensitivity (low ppbv or µg/L range) of an IMS. Therefore it is an excellent analytical tool, even for measurements in complex matrices, such as exhaled air analysis. Due to the possibility to change the  polarity of the drift voltage the GC-IMS can detect several substances e.g. ketones, aldehydes, alcohols, amines and phosphor organics as well as halogenated compounds. The chromatographic pre-separation enables to overcome the technological limitations of the IMS technology caused by  ion-ion interactions in complex mixtures and hence assures a selective identification.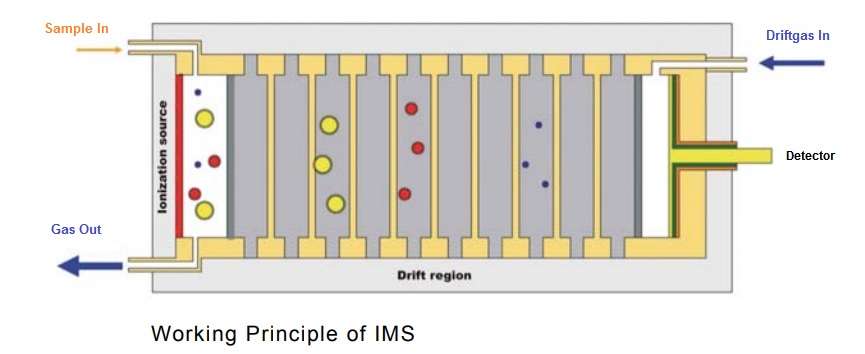 Uniqueness of the GC-IMS made by G.A.S.
The GC-IMS carries an in-system computer unit that can be operated as a stand alone device. It shows an extremely user friendly interface through a self explaining Menu. Operational steps as well as settings of a measurement are visualized on the 6.4" TFT and can be executed or changed through
a rotary pulse encoder. The system can be run in an automatic or manual mode. Specific areas of interest and alarm levels for predefined compounds can be determined. Further to that the available LAV PC-software enables (scientifically interested) operators to carry out more sophisticated data
analysis like a three dimensional finger print identification for substances. Data processing tools are available according to customer requirements.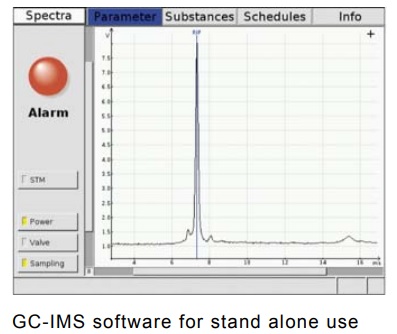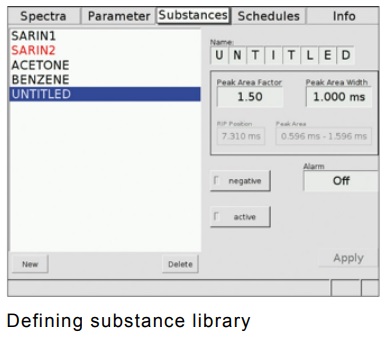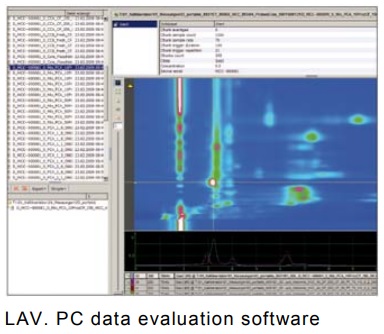 Advantages
• Stand alone operation due to integrated in-system computer unit.

• Manual or automatic operation including data acquisition, analysis, visualisation and data export.

• High reproducibility.

• Access to all relevant parameters for method development: temperature control for IMS, column and sample loop, flow control of internal sampling pump, drift and carrier gas.

• Heating mode up to 100 °C for fast cleaning of the system.

• Direct sampling using electrical six-port-valve and integrated pump.

• Software controlled switching between positive and negative ionization mode.

• Chromatographic pre-separation of water suitable for samples with high moisture content,  e.g. breath.

• Simultaneous calibration of different substances.
• Adjustable alarm thresholds.
Applications
Application: Product Identification in Beverage Industry
Market: Discrimination of carbonated drinks (e.g. Cola)
• Technical Requirement: Product control by producer
• Customers: Producers of carbonated drinks
• Result: Determination by characteristic finger prints

Application: Product Quality Control
Market: Early Detection of "bad smell"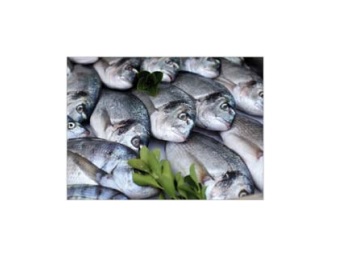 • Background: Amines like Trimethylamine (TMA) can cause odour of
fouling fish, some infections, and bad breath
• Technical Requirements: Earliest detection
• Customers: Food, packaging, pigments manufacturers
• Result: Sensitivity lies in low µg/L range in water

Application: Process Control during Manufacturing
Market: Detection of Diacetyl in beer during Fermentation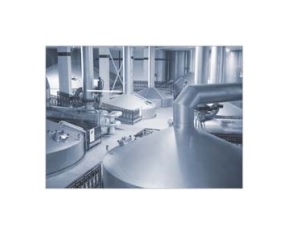 • Background: Diacetyl "butter aroma" is produced by fermentation process
and key parameter for termination of brewing process
• Customers: Breweries
• Result: Straight detection of diacetyl in beer within 1 minute without
sample treatment

Application: Sensitive VOC-Detection
Market: Detection of marker substances in human Breath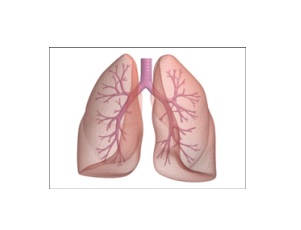 • Background: Exhaled volatile organic compounds carry important
information about the health of the individual (e.g. acetone is marker
for diabetes)
• Customers: Medical care
• Result: Sensitive detection e.g. of aldehydes (low ppbv)
Specifications
Technical Specification
Working principle: Ion Mobility Spectrometry with chromatographic pre-separation Ionisation method: Radioactive ß-radiation
Source: Tritium (3H)
Activity: 300 MBq, below the exemption limit of 1 GBq acc.to
EURATOM guideline, no licence necessary
Column type: Multi Capillary Column (MCC), type depending
on application
Sampling: Heated electrical 6-port-valve (stainless steel),
Gas tight loop (1-10 mL)
Start-up time: 5 minutes
Spectra analysis time: Few seconds
Detection limits: Typically in the low ppbv-range
Dynamic range: Typically 1-3 order of magnitude
Display: 6.4" TFT, VGA-display
Input unit: Rotary pulse encoder, ESC- push-button
Processor: 400 MHz x-Scale
Data acquisition: Ultra fast ADIO-board
Data processing: X-Board / Baseboard
Data storage: Min. 1GB compact-flash memory or USB-Stick
Communication: RS232, USB, Ethernet
Electrical connectors: 2 x D-Sub 9-pole (for modem, console) D-Sub 15-pole (for external devices)
RJ45 (for digital modem or SSH) 2 x USB-A
Power supply: 100 – 240 V AC, 50-60 Hz (external)
24 V DC / 5A, XLR-connector (internal)
Power consumption: < 120 Watt
Dimensions: 449 x 375 x 177 mm or 17.7" x 14.8" x 7.0"
(WxDxH)
Weight: 15,5 kg or 34,2 lb
Housing: 19" compatible, IP 20 enclosure, EMC certified)
Cooling: Axial ventilator, speed control temperature related,
max. 5,5 m3/h
Gas connectors: 3 mm stainless steel Swagelok connectors
for drift gas inlet, sample gas in- and outlet, carrier gas inlet
and IMS gas outlet)