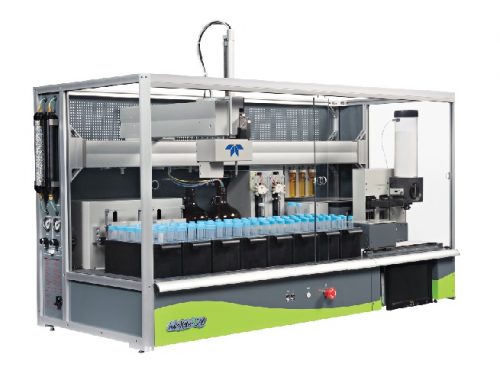 QuEChERS เป็นวิธีการสกัดแบบ Solid Phase Extraction (SPE) สำหรับตรวจจับสารกำจัดศัตรูพืชตกค้างในอาหาร
ชื่อนี้เป็นคำย่อที่เกิดจาก "quick, easy, cheap, effective, rugged, and safe"
"รวดเร็วง่ายราคาถูกมีประสิทธิภาพทนทานและปลอดภัย" 
Overviews
The AutoMate-Q40 is a revolutionary system specifically designed and optimized to automate the QuEChERS sample preparation workflow.
The AutoMate-Q40 system automates the following sample prep functions
Liquid dispensing/pipetting

Vortex mixing

Vial shaking

Opening/closing sample vials

Addition of solid reagents (ex. salts, buffers)

Decanting

Centrifugation

Matrix spiking

dSPE cleanup
​
Methods 
The system is configured 'out of the box' to conduct two of the most popular QuEChERS sample preparation methods:
​AOAC 2007.01 (Pesticide Residues in Food by Acetonitrile Extraction and Partitioning with Magnesium Sulfate)

EN 15662.2008 (Foods of Plant Origin – Determination of Pesticide Residues Using GC-MS and/or LC-MS/MS Following Acetonitrile Extraction/Partitioning and Clean-up by Dispersive SPC – QuEChERS Method)
——————————————————————————————————————————————

Kelli A. Simon with the FDA presented the following poster at NACRW conference July 2015.

"Performance Evaluation of an Auotmated QuEChERS Workflow Platform for Analysis of Pesticides in Fresh Produce"

Abstract: 
The Teledyne Tekmar AutoMate Q-40 is a robotic system designed to optimize and automate the QuEChERS (Quick, Easy, Cheap, Effective, Rugged, Safe) sample preparation workflow. The performance of this system was evaluated in comparison to a manual sample preparation workflow using the AOAC 2007.01 unbuffered QuEChERS methodology where all samples were analyzed using liquid chromatography – tandem mass spectrometry (LC-MS/MS). Matrices used in this study were cabbage, valencia orange, raisin and purple corn flour. A Restek LC Multiresidue Standards Kit for Pesticide Analysis, Teledyne Tekmar QuEChERS extractions salts and C18/PSA dSPE cleanup and an ABSciex Qtrap 5500 mass spectrometer were also employed. LC parameters included the use of a Restek Ultra-Aqueous C18 Column (100 mm x 2.1 mm, 3 μm), 10 mM NH4HCO2 buffer (A: water, B: methanol) with 0.1% formic acid, 0.5 mL/min flow rate with 5 μL sample injection and MS/MS parameters were optimized individually. Results were determined for the instrument (limit of detection, limit of quantitation and linearity) and method (method detection limit, recoveries, relative standard error) and will be compared to determine the statistical differences (if any).

Click to Download Poster:


 
If you would like further information about the system including technical capabilities/specifications, anticipated pricing, etc. contact Tom Hartlein at +1 513-229-7065 or email thartlein@teledyne.com.
Features
The AutoMate-Q40 system automates the following sample prep functions
Liquid dispensing/pipetting

Vortex mixing

Vial shaking

Opening/closing sample vials

Addition of solid reagents (ex. salts, buffers)

Decanting

Centrifugation

Matrix spiking

dSPE cleanup
Application Notes
Downloads